EITA-Bio 2008 Home
The First Annual **EITA-Bio ** Workshop

(EITA-Bio 2008)

"Synergy of Bioinformatics and Biomedical Research"
Friend Center, Princeton University
Princeton, New Jersey
Saturday, June 7, 2008
The world is in the midst of an information and communication technological revolution that is transforming almost every aspect of our lives. The intersection of information technology and biotechnology has become critically important because of the vast amount of data involved in the study of biology. Bioinformatics is very much a discipline in expansion as evidenced by the convergence of Biology, Computer Science, Information and Communication Technology, Mathematics and Statistics.
Bioinformatics highlights the application of statistics, data mining, artificial intelligence, neural networks, machine learning and natural language processing techniques to computationally difficult problems in molecular biology. It is dedicated to provide researchers the knowledge and skills necessary for the invention of algorithms and the creation of computational systems that facilitate the understanding of biological processes and application of these tools and methods to individuals and communities through public health and prevention programs. Meanwhile, advances in high-throughput biotechnology and novel bioassays at the single-cell level have fundamentally changed the way people study biology. Following the decyphering of human genome at the turn of the century, interplay of bioinformatics and novel biotechnology has brought a new revolution in biomedical research.
The EITA-Bio Workshop will focus on the current research and development frontiers in both academia and industry. This year, we will invite leading scientists to present and discuss how the synergy of bioinformatics and biomedical science may further our understandings in biology and medicine, and facilitate our combat against diseases. The full-day event covers latest advances in various topics including computational biology, systems biology, cancer, immunology, and high-throughput screening. We expect our program will engage dialogues across disciplines and invite discussions in the forefront of biomedical informatics. We sincerely invite you to join us for this exciting event.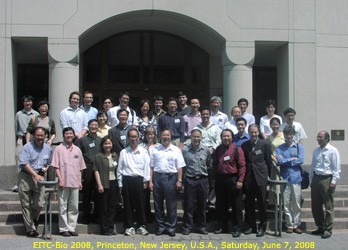 Li-San Wang, University of Pennsylvania
Yibin Kang, Princeton University
Document Actions